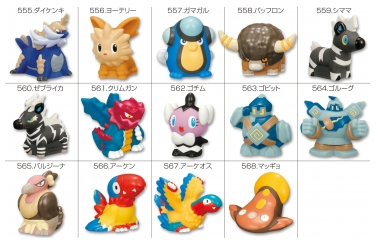 Product Name
: Pokemon Kids BW: Samurott Set
Release Date
: August 2011
EDIT: Also, it should be noted that Blitzle's release had an error!
Bandai is sending the correct version to those who fill out some sort of web form proving that they bought an incorrect one, according to AAPF. <3
Resource:
http://www.bandai.co.jp/candy/products/2011/695840.html#top
,
http://pokemonfigure.blogspot.com/2011/09/pokemon-kids-blitzle-info-bandai.html
Product Name
: Pokemon Kids BW: Movie 2011 Set
Release Date
: July 2011
*NOTE: These kids are metallic and shimmery!
Resource:
http://pkmncollectors.livejournal.com/9741098.html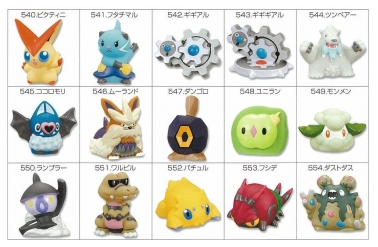 Product Name
: Pokemon Kids BW: Dewott Set
Release Date
: June 2011
Resource:
http://www.bandai.co.jp/candy/products/2011/695260.html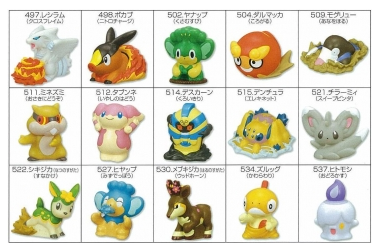 Product Name
: Pokemon Attack Kids: BW 1
Release Date
: May 2011
Resource:
http://www.bandai.co.jp/candy/products/2011/647955.html
Product Name
: Pokemon Kids BW: Servine Set
Release Date
: April 2011
Resource:
http://www.bandai.co.jp/candy/products/2011/646569.html
Product Name
: Pokemon Kids DX: BW 2
Release Date
: March 2011
Resource:
http://www.bandai.co.jp/candy/products/2011/647511.html
Product Name
: Tomy Monster Collection Figure
Release Date
: March 2011
Resource:
http://www.takaratomy.co.jp/products/pokemon/moncolle/museum/index.html

Product Name
: Tomy Monster Collection Figure
Release Date
: February 2011
Resource:
http://www.takaratomy.co.jp/products/pokemon/moncolle/museum/index.html



Product Name
: Tomy Monster Collection Figure
Release Date
: January 15, 2011
Release Date
: January 29, 2011
Resource:
http://www.takaratomy.co.jp/products/pokemon/moncolle/museum/index.html
Product Name
: Pokemon Chara Kids W
Release Date
: February 2011


Ash and Pidove (Clear Version)

Iris and Axew (Clear Version)

Dent and Pansage (Clear Version)

Jessie and Woobat (Clear Version)

James and Meowth (Clear Version)

Resource:
http://www.bandai.co.jp/candy/products/2011/647214.html